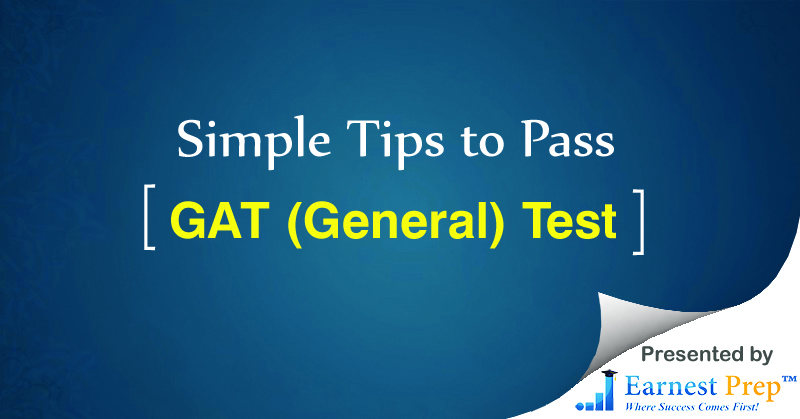 In the last few days, I have received lots of questions that revolve around one point: "Please give me some tips to pass GAT (General) in just 10 days of preparation." It is not uncommon that many people start their GAT preparation when the test day approaches too near. They get panic and start asking such questions unconsciously. So, in this article, I will address 5 simple tips that will help you to perform pretty well in your GAT (General) test in such a short period. Additionally, I will suggest 5 things that you must avoid while preparing for the test.
Tips to clear GAT (General) in just 10 days
Before addressing how to pass GAT (General), I would recommend you to create your 10-days study plan and follow it strictly. Proper planning is an ultimate yardstick to get success. So, it is imperative to make a study plan that you can follow conveniently.
"If you fail to plan, you are planning to fail."

~ Benjamin Franklin
Things You Should Do
Following are the 5 things you should do in GAT preparation:
1. Focus on important topics
Are you studying from the GAT (General) book? Only learn those topics that NTS frequently tests in GAT. These topics include:
2. Identify areas of improvement
It is quite natural that students from engineering background tend to study math (i.e. quantitative section) quite happily, while that of social sciences background are more comfortable with verbal section. This results in a state of panic, which ultimately lead to question that many people ask to get some tips. The solution to this perplex is to give some time to your weak area too. Students from engineering or business background must also focus on verbal section, especially on vocabulary which constitutes largest part in this section. Similarly, students from medical and social sciences should also focus on quantitative and analytical sections.
3. Polish your skill
Remember that you cannot get excellent score without skilled based study. First you must think about the term "skill", and ask what does it mean? Basically, the definition might vary from person to person; however, the meaning is to become expert. Many people argue that this is achieved via practice. In fact, this is 33% true! Because skill development process involves three steps:
In order to build skill, you must go through these three stages. Each topic must be covered in this way. The problem with many students is that they mainly emphasize on practice and fail to do first two steps properly.
4. Emphasize more on accuracy than on speed
Many people worry about attempting all 100 questions of GAT (General) within the allotted time (i.e. 120 minutes). However, this is an unwise attempt. You target must be on answering correctly to as maximum questions as you can, rather than answer all questions within the given time.
5. Do some productive practice
Don't just waste yourself in practice of outdated or irrelevant questions. It is much better to have some practice of GAT past papers. This will not only help you understand the exact difficulty level of the questions coming in GAT (General), but also provide you confidence to appear in the test day.
Things You Should Avoid
1. Get panic
It is natural for any person to get panic at such exigent situation of chaos, where test date is too near but the preparation is too far. Just take advantage of whatever time you have ahead, and stick to the study plan. Getting panic is nothing to do with your desired results.
2. Spend whole time on practice
One of the biggest blunder that majority of the low scorer do is to spend whole time on practice and learn nothing from concepts and lessons. These people have a cogent argument for doing such act. Basically, the books available in the market are not helping them in understanding concepts through lessons. That's why they are imposed to spend all the time doing practice from these outdated books. However, this problem is resolved by The Best Book of GAT (General) – presented by Earnest Prep.
3. Silly mistakes
Many people who learn the concepts and the skill, they still face a common problem where they find themselves impotent (meaning: ineffective). That problem is doing silly mistakes, which might be on part of some arithmetic calculation in quantitative section, unconsciously choosing synonym of a word whose antonym is required in verbal section, or doing a tinny mistake in making sketch in analytical section.
"When you make a mistake, there are only three things you should ever do about it: admit it, learn from it, and don't repeat it."

~ Paul Bear Bryant
4. Dedicating significant time on vocabulary
Don't forget to give some time to learn important GAT vocabulary that is frequently tested in GAT (General) test. You will be surprised to know that more than 50% of the verbal section of GAT (General) test check your knowledge of vocabulary.
5. Poor time management
If you ask me what is the most common problem that almost all students appearing in GAT (General) test faces? I would say poor time management. GAT test consists of 100 questions, but only 2 hours are allotted in total. So, the best strategy at appropriate time is most suitable. You must attempt that section at first which can be your most favorite as compared to other two sections of GAT (General). Furthermore, attempt all those questions that you can solve at ease. While, encircle the remaining questions randomly when you left only 2 minutes ahead.
Finally, you can conveniently apply these simple tips to pass GAT test when you begin your preparation via The Best Book of GAT (General) by Earnest Prep If you want to place online order for this book, click "GAT Book Order" button below: