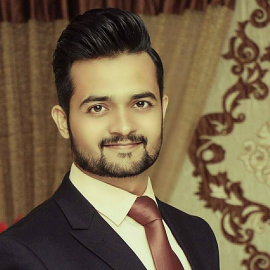 Let me introduce myself first by telling you about my performance in GAT. After graduating from University of the Punjab in Lahore, I attempted GAT and scored 92 marks with 99th percentile in my first attempt.
After that you know about my GAT, let me tell you about my experience in the field of academics. I have been teaching GAT for over 3 years. During this time, the success rate of my students has remained over 90%. Many of my students, who were from other cities, suggested that my lectures should be published online. This would save them their time and also the costs associated with rent and traveling. I thought about it and decided to accept the challenge. It was a mountainous task, but I accomplished it with persistence and perseverance.
What is my motive behind this project?
People attempt GAT in order to apply for various scholarships and jobs, in addition to apply for admissions. Nowadays, simply clearing the GAT isn't enough; one needs to get a high score to get shortlisted. In order to achieve this, one must practice and prepare using the best available lectures and practice material. Such lectures should use different scenarios and methodologies to make concepts easy to grasp.
To address this effectively, I prepared written lectures and published them online, making them easy to access at one's own convenience. I wanted to make this like a distance learning program, where one can sit in the comfort of one's own house while learning all the required concepts. I also wanted to give individual attention to all of my students in order to address and resolve their issues. This would make sure that they perform well on test day. Most of all, I wanted all of this to be highly cost-effective, so that maximum people could take advantage with individual attention.
For those who are going to attempt GAT for the first time, you've reached the right place for the best preparation. For those who have previously attempted GAT using outdated material available in the market, remember what Henry Ford said:
"Failure is simply the opportunity to begin again, this time more intelligently."
What are you waiting for? Click on GAT 30-Days Study Plan to start your journey to the top of GAT.
I have learned couple of things from teaching. It's more than a passion for me. Mare teaching is not the aim what makes this profession the most favorite, rather training through a rigorous course work that helps my students in building the required sets of skills makes this profession the reason why I have opted this enthusiastically and have set my objectives accordingly.
I have taken GRE and GMAT twice with highest 327 and 710 respectively. But these scores never make a person an excellent teacher, rather this profession is a much bigger and harder thing. I always consider my student as if I am in his/her place and want to help in polishing his/her reasoning skill. These tests is not just about Math or English, rather its more about reasoning and justifications. I believe that without focusing on reasoning skills, getting a good score in such exams is unrealistic task.
Since 2012, I have taught GRE at an institute in Model Town, Lahore. I left the institute and joined HEC in 2018. Since that, I have been working with Higher Education Commission of Pakistan to train GRE course at different universities where HEC organize and sponsor. The training program is a part of US-Pak Knowledge Corridor, which provides a lucrative opportunity for students who want to study PhD from USA. Currently, I am organizing seminars in different parts of the country starting from my home city (Lahore). Pakistani students need to learn Problem Solving Skill, Critical Thinking and Reasoning Skill, Comprehension and Analytical Writing skill to get excellent score in these exams. My Teaching method revolves around these core areas and covers three stages to help students in building these skills:
Under the HEC project of US-Pak Knowledge Corridor, I have trained GRE at University of Azad Jammu & Kashmir. Additionally, I have trained lecturers and students of Mehran University of Engineering & Technology, University of Sindh, ISRA University, Liaquat University of Medical & Health Sciences, and Shaheed Zulfiqar Ali Bhutto Institute of Science and Technology at Mehran University arranged by HEC.
Before joining HEC in this project, I worked at Reach Expo on a project based tasks to facilitate the exports of this country by encouraging companies that have exports potential so they can exhibit their products to international markets. Currently, I'm also planning to study PhD in Development Economics from USA. After accomplishing my short-run goals.
So this is all about me and my motive behind teaching.