The Best Book for GAT (General)
, presented by
Earnest Prep
, provides a comprehensive guide for GAT (General) preparation and practice which includes 5 full practice tests from
GAT Past Papers
. The book is published after providing success to hundreds of students through
GAT Preparation Online Course
. Many people are not comfortable to study through laptop. They prefer to study from good books. Keeping their needs in mind, we have published
The Best Book for GAT (General)
, presented by
Earnest Prep
.
What's inside The Best Book for GAT?
The GAT book comprises of 20 days study plan, which can be completed in just 20 days provided that daily 5 hours must be given to study earnestly.
Initially, the The Best Book for GAT covers basics of GAT Quantitative, GAT Verbal and GAT Analytical sections. First three days of the 20 days study plan comprises of GAT basics. Once you learn and understand the basics, you will be ready to understand GAT advance level concepts. Later on, GAT Preparation Plan starts from 4th day of the 20 days study plan. This portion covers lessons containing concepts of different topics, including topic-wise practice. Once you learn those concepts and have some topic-wise practice, you will be ready for attempting GAT practice tests from Past Papers. GAT Practice Session provides 5 full length practice tests from GAT past papers (i.e. 500 questions). Additionally, there are plenty of vocabulary practice at the end of The Best Book for GAT. These practice are in form of synonyms and antonyms, that came in GAT past papers by NTS.

In short, you will be guided through three stages:
Beginners Refresher (3 Days)
Preparation Plan (12 Days)
Practice Session (5 Days)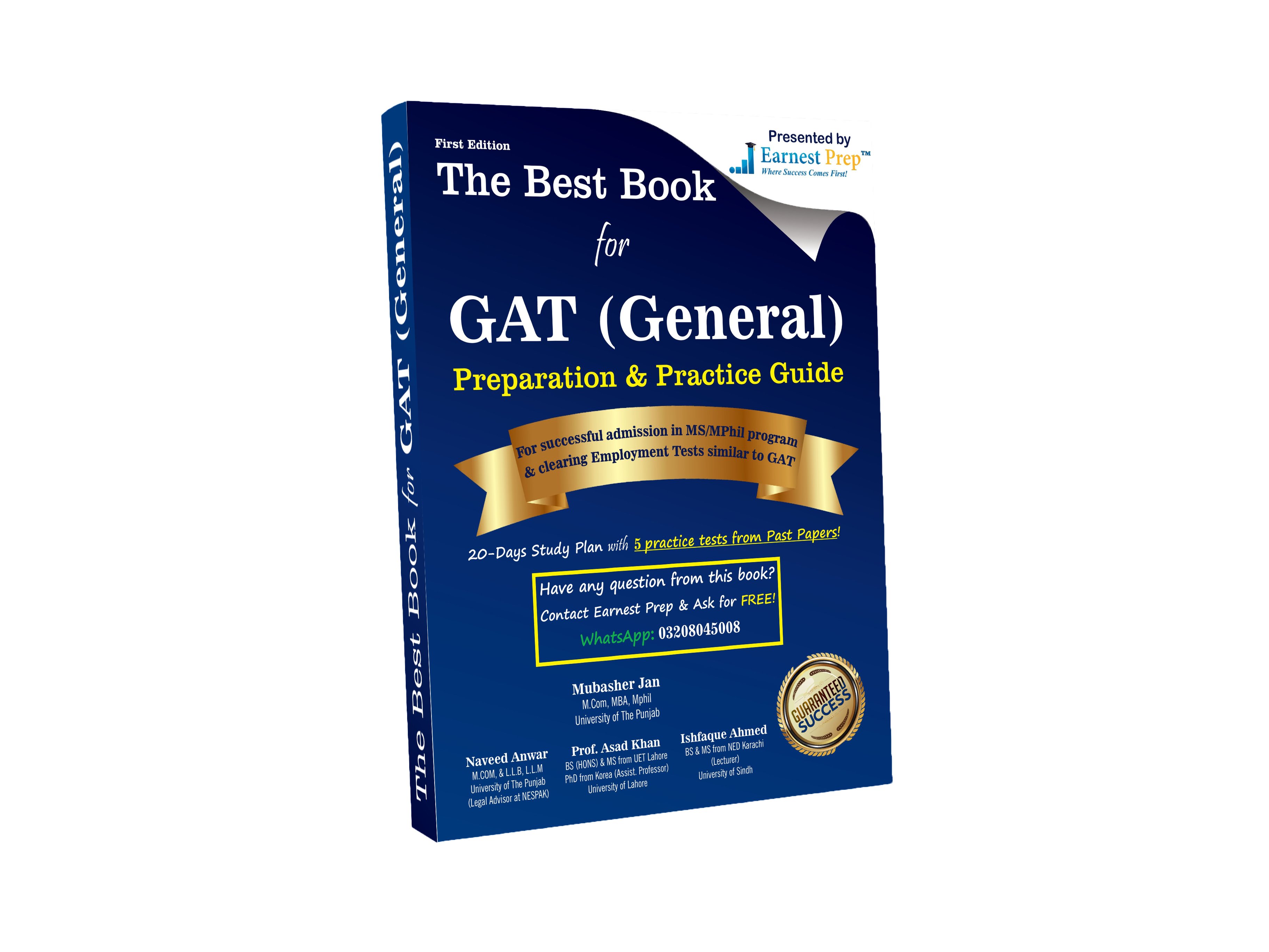 What's the Price of The Best Book of GAT?
In order to see the GAT Book price and features, click on Order GAT Book button at bottom of this page.

Once you place online order, the book will be dispatched to your mention address. It usually takes 2 to 4 working days depending on your location. Meanwhile, you should download the Free Sample Booklet by visiting FREE GAT Book in PDF.
How to buy the book?
There are two options to place online GAT Book Order with us:
1. Direct Bank Transfer (No additional charges)
2. Cash on Delivery (Money order charges of PKR 75 are applicable)

In both of the methods, we'll bear the delivery charges. Second method of GAT Book Order, Money Order charges will be added. Money order charges are the fee for transferring your payment, which the courier company charge. If you want to avoid such charges, you can use first method which require payment before delivery of The Best Book for GAT.
The cost of the book and some features are mentioned on the next page. Just make an online order by following the steps mentioned in the GAT Book Order page. Once you get the book at your home using second option of payment, you'll need to pay the book fee in addition to the Money Order fee to the focal person who will deliver the book to you. In order to place an online order for the book, click on Order GAT Book button below:
Also, if you are interested in preparation via online course, please visit GAT Preparation Online
---